Access­ories
IO Exten­sion
IO Exten­sion is an exten­sion to the standard inputs and outputs of the DSM control systems.
The device is automa­ti­cally detected and controlled by the DSM system bus inter­face.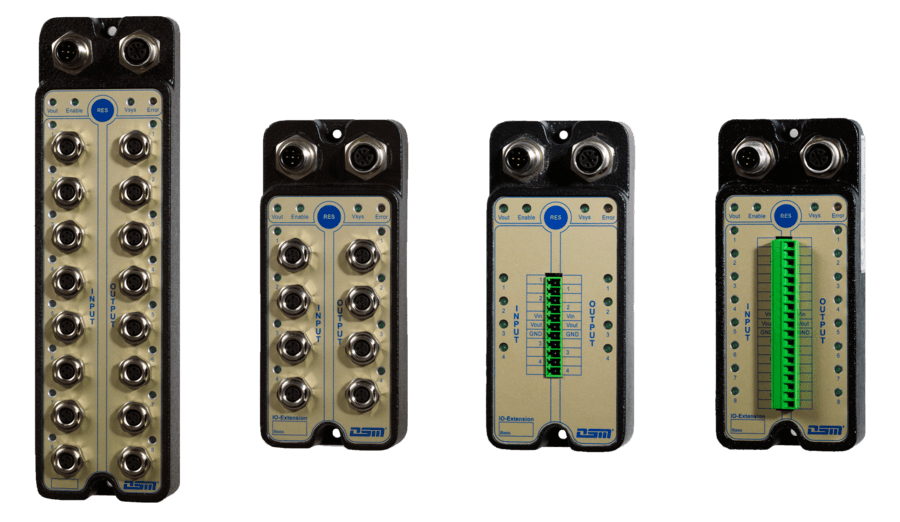 In the sequence programming, the inputs / outputs can be used for any control tasks.
Connec­tion option of up to 16 modules on one control unit.
Features
Stable alumi­nium housing with fastening bores
Status indicator for inputs / outputs
DSM system bus functional control
Reset button
System bus inter­faces input / output
Connec­tion of the I/O level via terminal blocks or circular connectors
Designs
IO Exten­sion 4/4S: 4 inputs, 4 outputs;
I/O connec­tion via terminal blocks
IO Exten­sion 4/4C: 4 inputs, 4 outputs;
I/O connec­tion via circular connectors
IO Exten­sion 8/8S: 8 inputs, 8 outputs;
I/O connec­tion via terminal blocks
IO Exten­sion 8/8C: 8 inputs, 8 outputs;
I/O connec­tion via circular connectors