Work stations
Indivi­dual solutions tailor-made
Work stations
Work stations from DSM
In addition to indivi­dual compon­ents for tightening and press-in technique, DSM also offers complete indivi­dual worksta­tions and conver­sions to existing stations.
With our long-term experi­ence in these fields, you can rely on a cost-effec­tive, excel­lent overall solution, in which all compon­ents are ideally tailored to each other.
The frame construc­tion is made of alumi­nium profiles. All dimen­sions can be indivi­du­ally tailored.
We equip your worksta­tion with the desired DSM products and, if desired, also with compon­ents from other manufacturers.
Personal safety accor­ding to current standards is ensured, for example, by a light curtain, a lockable automatic lifting door and two-hand controls.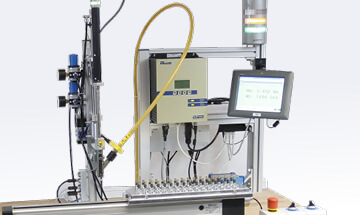 DSM assembly station for the automatic screw connec­tion of threaded bushing.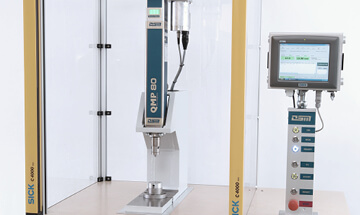 DSM joint station with protected working space for caulking bushing.