Access­ories
ToolCon­trol
The intel­li­gent and practical tool change box. DSM offers the ToolCon­trol in diffe­rent designs.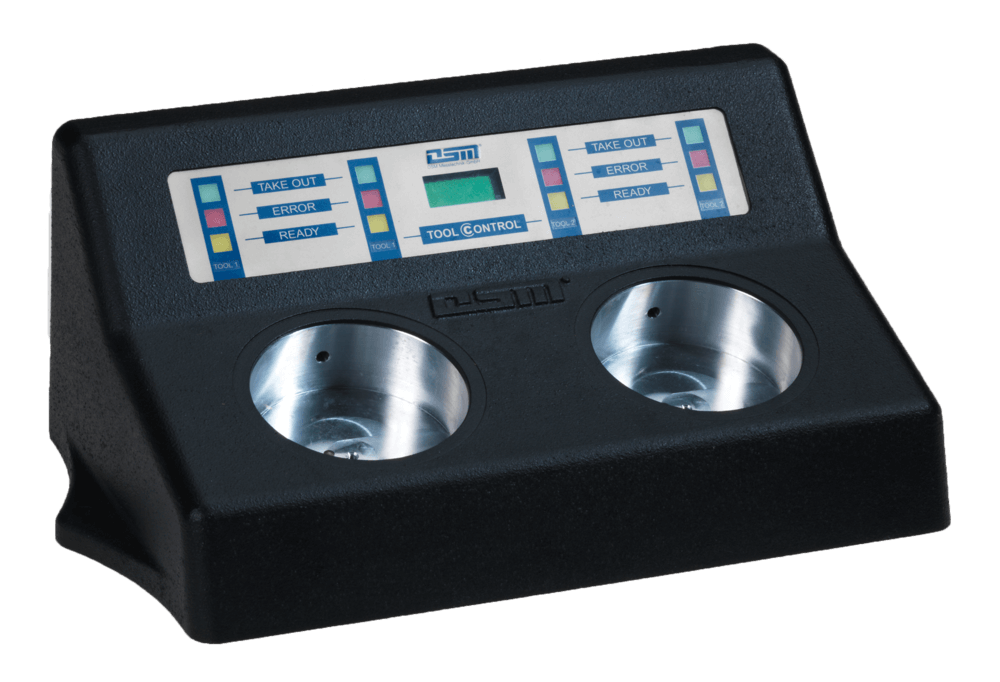 The intel­li­gent tool change box detects when a tool is removed​. ToolCon­trol then automa­ti­cally calls up the correct sequence programme.
In the case of external preset­ting – e.g. by the control system – ToolCon­trol shows the operator which tool is currently required in
the process.
Features
Status messages via LCD plain text display (basic system only)
LED status indicator for correct or incor­rect tool
Programme selec­tion when removing the tool
Programme selec­tion with preset of the tool removal
Processor-monitored tool removal
Adapted tool inserts made of plastic
Casca­dable up to max. 32 tools
Cast alumi­nium console housing with mounting brackets
Inter­faces
USB port for inter­face configuration
System bus inter­face for commu­ni­ca­tion with the control system
Exten­sion inter­face for further ToolCon­trol modules
Profibus, Ethernet inter­face for integra­tion into the PLC
RS232 inter­face
Dimen­sions and weight
Dimen­sions (W) 300 mm x (D) 198 mm x (H) 130 mm
Weight 3,6 kg
Designs
ToolCon­trol Basic system with LCD plain text display
TC8: for 8 tools up to max. 25 mm diameter
TC4: for 4 tools up to max. 40 mm diameter
TC2: for 2 tools up to max. 72 mm diameter
ToolCon­trol exten­sion system (without display)
TC4‑E: for 4 tools up to max. 40 mm diameter
TC2‑E: for 2 tools up to max. 72 mm diameter