The intelligent and practical tool change box. DSM offers the ToolControl in different designs.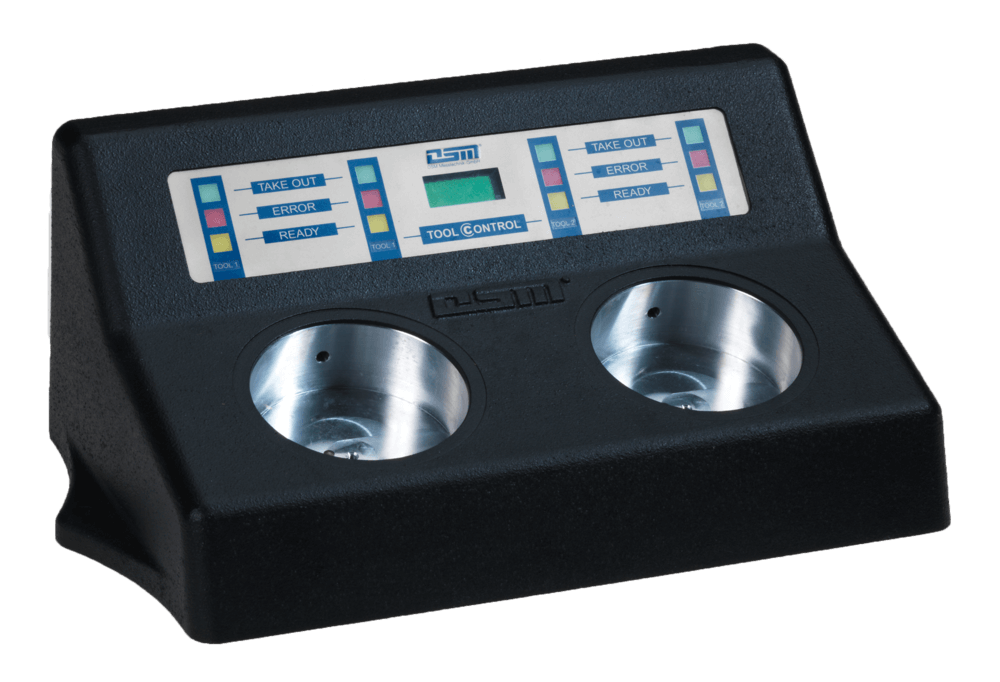 The intelligent tool change box detects when a tool is removed​. ToolControl then automatically calls up the correct sequence programme.
In the case of external presetting – e.g. by the control system – ToolControl shows the operator which tool is currently required in
the process.
Features
Status messages via LCD plain text display (basic system only)
LED status indicator for correct or incorrect tool
Programme selection when removing the tool
Programme selection with preset of the tool removal
Processor-monitored tool removal
Adapted tool inserts made of plastic
Cascadable up to max. 32 tools
Cast aluminium console housing with mounting brackets
Interfaces
USB port for interface configuration
System bus interface for communication with the control system
Extension interface for further ToolControl modules
Profibus, Ethernet interface for integration into the PLC
RS232 interface
Dimensions and weight
Dimensions (W) 300 mm x (D) 198 mm x (H) 130 mm
Weight 3,6 kg
Designs
ToolControl Basic system with LCD plain text display
TC8: for 8 tools up to max. 25 mm diameter
TC4: for 4 tools up to max. 40 mm diameter
TC2: for 2 tools up to max. 72 mm diameter
ToolControl extension system (without display)
TC4-E: for 4 tools up to max. 40 mm diameter
TC2-E: for 2 tools up to max. 72 mm diameter