Control systems
MultiC­lassic
The MultiC­lassic allround control system is equally suited to simple and complex assembly work.
With this system, hand-held nutrun­ners and built-in nutrun­ners of the DS series with direct torque measu­re­ment and all press-in units of the QMP / SMP series can be controlled.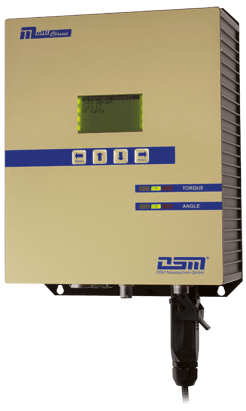 Both manual worksta­tions and automatic stations can be equipped with the control system.
Thanks to the DSM system bus, the networ­king of several devices can be conve­ni­ently performed on a multi-channel system.
2.7 inch LCD display with lighting
Graphic display of measured values
6 LED status indica­tors for torque and rotational angle / force and distance
Function keys
Traceable calibra­tion
Programming and parame­ter­i­sa­tion via MultiControl4 software
Freely programmable processes
Automatic self-test of the control system and connected DSM tool
Automatic calibra­tion test of the measured value sensor
Ring storage, max. results storage 500 data records
2 statis­tics memories per programme
External memory (backup and produc­tion memory) CF-Card 128 MB
Hardware options
Fieldbus connec­tion: Profibus, Profinet / Profibus Proxy connectors
DSM system bus for networ­king, connec­tion of DSM accessories
TCP/IP module
MSI inter­face for connec­tion to safety equipment
Access­ories
IO exten­sion: Exten­sion of the inputs and outputs
ToolCon­trol – tool manage­ment, monito­ring of tool removal
Handling system / position electro­nics for monito­ring XYZ coordinates
Status indica­tion: external status indicator
DCM exten­sion: for control­ling an external DC motor
DSM printer PR-II