The MultiPro allround control system is equally suited to simple and complex assembly work.
Equipped with a variety of functions, the scope of services of the MultiPro can be tailored to the assembly process.
With this system, hand-held nutrunners and built-in nutrunners of the DS series with direct torque measurement and all press-in units of the QMP / SMP series can be controlled.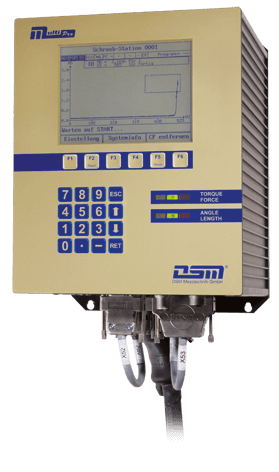 Both manual workstations and automatic stations can be equipped with the MultiPro control system.
Thanks to the DSM system bus, the networking of several devices can be conveniently performed on a multi-channel system.
5.7 inch LCD display with lighting
Graphic display of measured values
6 LED status indicators for torque and rotational angle / force and distance
Function keys and keyboard block
Traceable calibration
Programming and parameterisation directly on the device or via MultiControl4 software
Freely programmable processes
Single step mode (test of the programme sequence)
Automatic self-test of the control system and connected DSM tool
Automatic calibration test of the measured value sensor
Ring storage, max. results storage 500 data records can be viewed on the device
2 statistics memories per programme
External memory (backup and production memory) CF-Card 128 MB
Hardware options
Fieldbus connection: Profibus, Profinet / Profibus Proxy connectors
DSM system bus for networking, connection of DSM accessories
TCP/IP module
MSI interface for connection to safety equipment
Accessories
IO extension: Extension of the inputs and outputs
ToolControl – tool management, monitoring of tool removal
Handling system / position electronics for monitoring XYZ coordinates
Status indication: external status indicator
DCM extension: for controlling an external DC motor
DSM printer PR-II